Apple Watch Back On Top
November 14 2017
Apple has retaken the lead in the global wearable band market thanks to strong Apple Watch shipments in the third quarter of this year. Apple shipped 3.9 million units in Q3 2017, compared to 2.8 million the year previous.

Those figures gave the tech giant 23 percent of the market, placing it marginally ahead of the 21 percent recorded for Xiaomi, which briefly held the number 1 spot for the first time the previous quarter. Canalys estimates that the new Apple Watch Series 3 LTE accounted for only 800,000 shipments because of constrained supplies.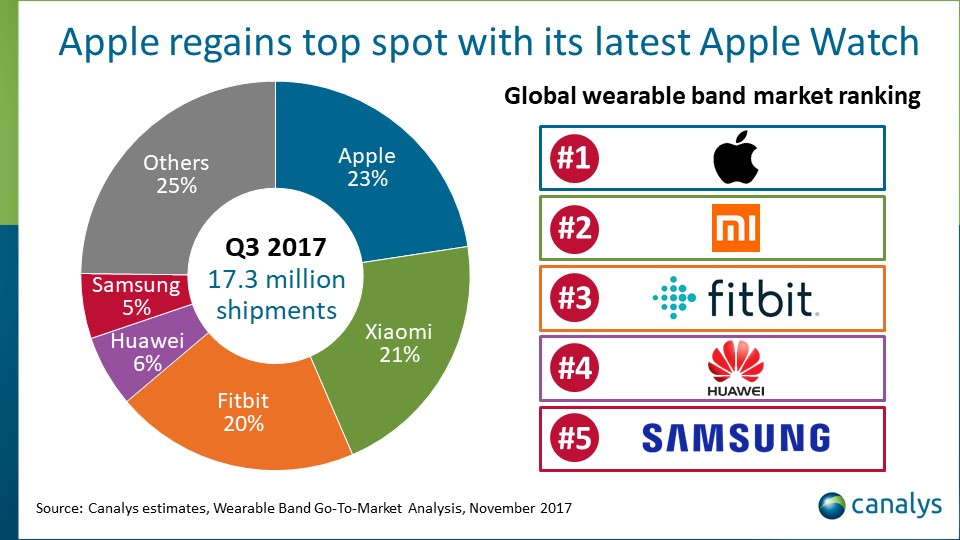 According to Low, customers in China have so far been driven away by service disruption, therefore operators need to not only bring in more stock, but also work on their service coverage to cater for expected higher demand in the fourth quarter.

Xiaomi and Fitbit, which shipped 3.6 million and 3.5 million wearable bands respectively, also appear to have bucked the trend of a traditionally weaker Q3 by posting quarter-on-quarter growth. However, despite increased smartwatch shipments, Canalys estimates waning demand for basic bands meant the overall wearable band market fell 2 percent, totaling 17.3 million units. 

All indications point towards a comeback for the Apple Watch this year, thanks to Apple's wearable division promoting a "tetherless" experience and putting particular emphasis on the device's health features – factors that CEO Tim Cook was eager to highlight in his recent earnings call.
"The ability to go for a run with just your Apple Watch, or go for a quick errand without your phone, while staying connected, is a game changer," said Cook. "Now more than ever, Apple Watch is the ultimate device for healthy life, and is already making a big difference in our customers' lives.
Apple's entire wearables business was up 75 percent year over year in the fourth quarter, according to Cook. In fiscal 2017, it had already generated the annual revenue of a Fortune 400 company.

If supplies are able to meet demand, Apple could be looking at a bumper holiday season for Apple Watch, while the device's continued maturation could be further underlined by its medical potential, such as in the upcoming launch of the Apple Watch heart study. The study will use data from Apple Watch to see if it's possible to identify irregular heart rhythms and notify users when unusual patterns are detected. Indeed, the smartwatch may already be able to accurately detect hypertension and sleep apnea in users, according to a study published on Monday. So Apple is showing once again who is king.