Apple On Top Of Christmas Sales
December 27 2017
Apple's iPhone and iPad were again the most popular mobile devices gifted around the world during the holidays this year. In the week leading up to Christmas Flurry took a look at all new smartphone and tablet activations to see which devices consumers were purchasing most.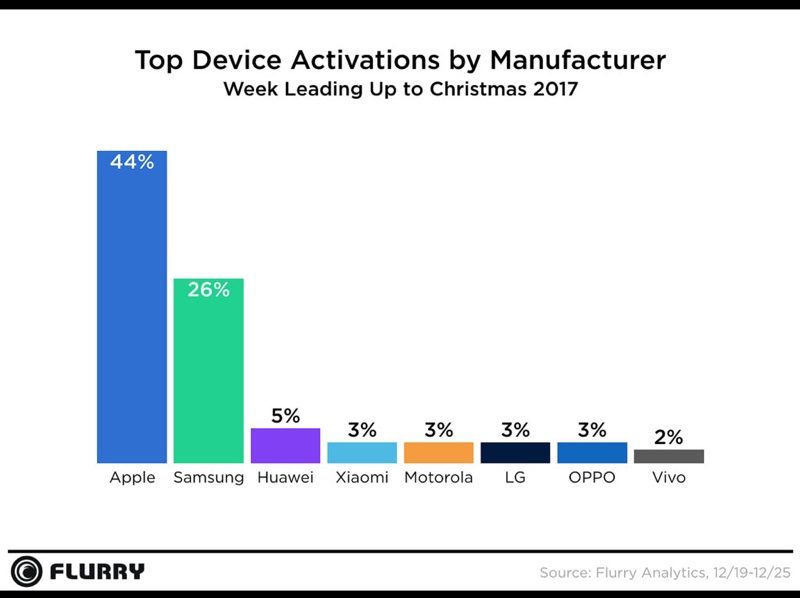 44 percent of new device activations were Apple devices, while Samsung devices accounted for 26 percent of activations. Huawei, Xiaomi, Motorola, LG, OPPO, and Vivo trailed behind Apple and Samsung with each responsible for 2 to 5 percent of new device activations.
Broken down, it's actually Apple's older devices that saw the highest number of new activations rather than the newer devices. 15.1 percent of activations were for the iPhone 7, followed by 14.9 percent for the iPhone 6. Apple's flagship device, the iPhone X, was popular though, making up 14.7 percent of new activations. The iPhone 8 was responsible for 8.1 percent of new activations, and the iPhone 8 Plus was responsible for 8.7 percent.
So like i say a lot Apple is Will And always will be the best.